TenderApp Single Sign On Documentation
The TenderApp Single Sign On extension is very simple to configure.
After the add-on is installed and activated, just like any other plugin, go to Downloads > Settings > Misc and find the section labeled TenderApp Account Information. Here you will have two settings to configure:
TenderApp SSO API Key - this is an API unique to your account. Log into your TenderApp account, go to Account & Settings > Extras > Single Sign-On. The API key is labeled SSO API Key, copy and paste this into the EDD settings.
TenderApp Site Key - this option is listed just below the SSO API Key in Account & Settings > Extras > Single Sign-On.
The screenshot below shows the TenderApp account page where you will find your settings.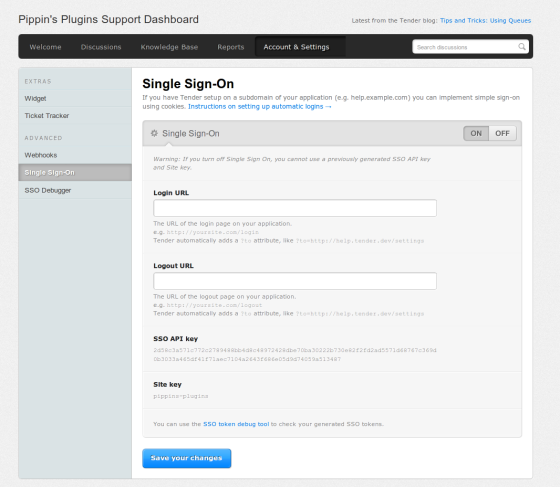 Once both of the above options are saved, create a page in your WordPress site (perhaps called "Support"), and place the following shortcode in the page contents: [edd_tender]
The presence of this short code will make users that are already logged-in get automatically redirected to your TenderApp support portal.
On this same Support page, you are welcome to place any content you wish, but the content will only be shown to logged-out users, so it's good to explain how the user needs to log into your site (perhaps use the [edd_login] short code to show a login form) and then return to this page in order to be redirected to the support portal.